Past Art Shows
2016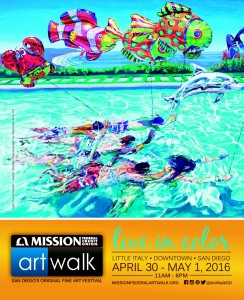 Date: April 30th – May 1, 2016 from 11:00 am to 6:00 pm
Event: Mission Federal ArtWalk
Location: Little Italy, San Diego, CA
For 32 years, Mission Federal ArtWalk has celebrated both visual and performing arts in San Diego. We believe art has the power to connect communities, cultivate new artistic talent and create a better quality of life for all through cultural enrichment.
On April 30 & May 1, 2016, Mission Federal ArtWalk will fill 17 blocks in San Diego's Little Italy neighborhood. Thousands of attendees come to view and purchase artwork, enjoy the music and dance and participate in interactive art experiences.
2015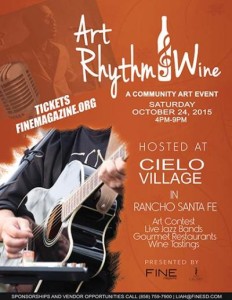 Date: October 24th, 2015 from 3:00 pm to 9:00 pm
Event: Rancho Santa Fe Art, Rhythm & Wine
Location: Cielo Village, 18029 Calle Ambiente, Rancho Santa Fe, CA
FINE magazine and The Crosby at Rancho Santa Fe HOA is hosting the Inaugural Art Rhythm & Wine fest; a yearly Art show where some of the community's best Painters, Sculptors, Jewelry Designers, Photographers, Mixed Media and Living Artists come together to present their works of Art.
Angela will be showcasing beautiful, one-of-a kind masterpieces in our art walk, open free to the public, from 3:00pm to 6:00pm. As the sun sets, join us inside one the most beautiful venues in Rancho Santa Fe. Live music will set the tone as guests enjoy gourmet food tastings, wine and beer tastings, and a live rhythm & blues band from 6:00pm to 9:00pm. A portion of the net proceeds of this event will help support The Country Friends.
To receive information on upcoming shows, please sign up for Angela's newsletter.